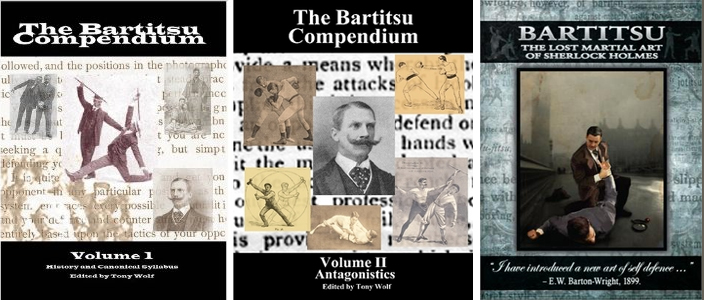 The Bartitsu Compendium, volume 1 (2005) is a complete guide to the history, theory and canonical practice of Bartitsu.  It features over two hundred and seventy pages of original essays, rare vintage reprints and never-before-seen translations, illustrated with hundreds of fascinating photographs and sketches.
Volume 2 (2008) provides resources towards continuing Barton-Wright's cross-training experiments. It combines extensive excerpts from fifteen classic Edwardian-era self defence manuals, including well over four hundred illustrations, as well as an extensive collection of long-forgotten newspaper and magazine articles on Bartitsu exhibitions and contests; original articles on Bartitsu history and training; a complete course of Edwardian-era "physical culture" exercises; personality profiles, essays and more besides.
Hosted by Tony Wolf and featuring interviews with Harry Cook, Emelyne Godfrey, Mark Donnelly, Graham Noble, Neal Stephenson and Will Thomas, Bartitsu: the Lost Martial Art of Sherlock Holmes is a 54 minute DVD documentary detailing the fascinating history, rediscovery and revival of Barton-Wright's pioneering mixed martial art.  Background information on the documentary production is available in this interview on the Freelance Academy Press website.